1. Introduction
There's something undeniably comforting about a bowl of warm, creamy soup, especially when it's loaded with the goodness of broccoli and the richness of cheddar cheese. Our Broccoli Cheddar Soup recipe is a delightful blend of nutritious broccoli and indulgent cheese, making it a perfect meal for any day. This soup is not just a treat for your taste buds but also a hug for your soul, promising a cozy, delicious experience in every spoonful.
2. Ingredients
1 large head of broccoli, chopped into florets
1 small onion, diced
2 cloves of garlic, minced
4 cups of chicken or vegetable broth
2 cups of shredded cheddar cheese
1 cup of heavy cream
2 tablespoons of butter
Salt and pepper to taste
3. & 4. Directions & How to Prepare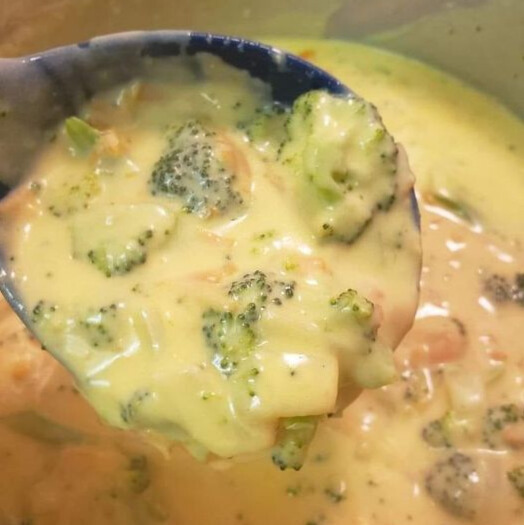 In a large pot, melt the butter over medium heat. Add the diced onion and minced garlic, sautéing until the onion turns translucent, about 5 minutes.
Add the broccoli florets and broth to the pot. Bring the mixture to a boil, then reduce to a simmer. Cook for about 10 minutes or until the broccoli is tender.
Use an immersion blender or transfer to a blender to puree the soup until smooth.
Stir in the heavy cream and shredded cheddar cheese until the cheese melts completely.
Season the soup with salt and pepper to taste.
Serve hot, garnished with extra cheddar cheese if desired.
5. Preparation Time
Prep Time: 10 minutes
Cook Time: 20 minutes
Total Time: 30 minutes
6. Servings
This recipe serves 4 to 6 people, making it ideal for a family meal or a small gathering.
7. FAQs
Can I use frozen broccoli? Yes, frozen broccoli works well. Just ensure it's thawed before cooking.
Can I make this soup vegan? Absolutely! Use vegetable broth, plant-based cheese, and a dairy-free cream alternative.
How long does this soup last in the fridge? Properly stored, it lasts 3-4 days in the refrigerator.
Can I freeze this soup? Yes, though the texture may change slightly upon thawing.
Is this soup gluten-free? Yes, as long as you ensure that your broth and other ingredients are gluten-free.
8. Conclusion
This Broccoli Cheddar Soup is not just a dish; it's a journey into the world of comforting flavors and textures. Each spoonful is packed with the wholesome goodness of broccoli and the creamy, cheesy delight of cheddar. It's a versatile recipe that can be tweaked to suit various dietary needs without compromising on taste. Whether it's a chilly winter evening or a breezy summer night, this soup stands as a testament to the power of simple, hearty ingredients coming together to create something truly magical. So, grab your pot and let's bring this comforting culinary delight to your table!