Introduction
Cream Cheese Roll-Ups are the epitome of easy, delicious snacking. Whether you're looking for a quick bite, a party appetizer, or just a fun way to spice up your snack time, these roll-ups are your answer. Made with simple ingredients like green onions, bell peppers, and cream cheese, they are not only affordable but also incredibly versatile. Imagine biting into a soft flour tortilla, bursting with the creamy, tangy flavors of cream cheese, enhanced by the crunch and sweetness of bell peppers and the mild zing of green onions. This recipe is a fantastic way to impress your guests or treat yourself to something special, without spending hours in the kitchen.
Ingredients
Green onions
Green bell pepper
Red bell pepper
Dash of salt-free chipotle seasoning
2 small blocks of original cream cheese (not whipped)
Flour tortillas (small or burrito size)
Directions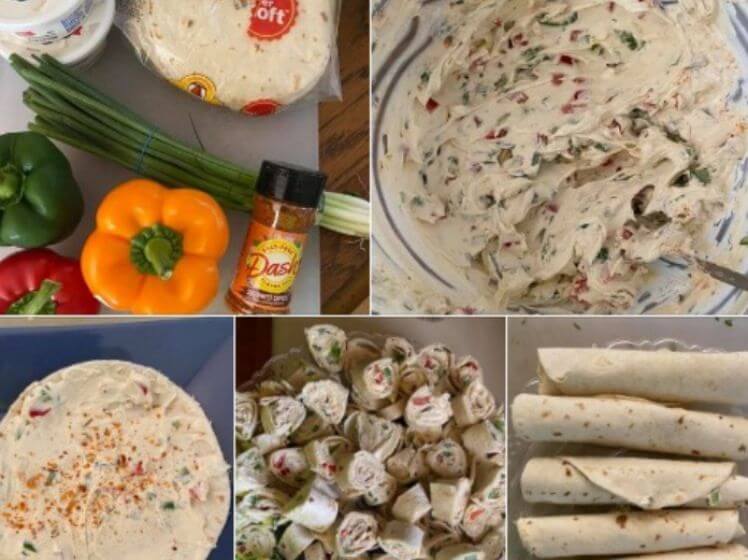 Begin by finely chopping the green onions and bell peppers.
In a mixing bowl, combine the chopped vegetables with the cream cheese.
Add a dash of chipotle seasoning to the mixture for an extra kick of flavor.
How to Prepare
Take a flour tortilla and spread the cream cheese mixture evenly over its surface.
Gently roll the tortilla, ensuring the filling stays inside.
Chill the roll-ups in the fridge for about 15 minutes. This step is crucial as it makes slicing them easier.
Preparation Time
Total Time: Approximately 25 minutes (10 minutes for preparation and 15 minutes for chilling)
Servings
This recipe makes about 10 roll-ups, depending on the size of the tortillas.
FAQs
Can I use whipped cream cheese instead? No, whipped cream cheese is too light and may not hold the ingredients well.
How long can I store them? They can be stored in the refrigerator for up to 2 days.
Can I add meat to this recipe? Absolutely! Cooked, shredded chicken or ham can be a great addition.
Are they suitable for vegans? As is, no. But you can substitute with vegan cream cheese and tortillas.
Can I freeze them? It's not recommended as the cream cheese may change texture upon thawing.
Conclusion
Cream Cheese Roll-Ups are a fantastic example of how simple ingredients can create something delicious and crowd-pleasing. They're a great option for those on a budget, or anyone looking for a quick and easy snack that's also flavorful and satisfying. These roll-ups are versatile, and you can easily customize them to suit your taste. Whether you're hosting a party, looking for a snack, or need something to bring to a gathering, these roll-ups are sure to be a hit. So, roll up your sleeves, and let's get rolling into this tasty culinary adventure!