1. Introduction
Indulge in the ultimate comfort food with our Loaded Broccoli, Cheese, and Potato Soup. This recipe transforms simple ingredients into a thick, chowder-like delight, brimming with hearty vegetables and rich cheese. It's perfect for chilly evenings or when you're craving something deeply satisfying and nourishing. This soup isn't just a meal; it's a warm hug in a bowl, promising to delight your taste buds and soothe your soul with each spoonful.
2. Ingredients
2 cans (14.5 oz each) chicken broth
2-3 large carrots, peeled and diced
4 medium potatoes, peeled and cubed
1 tsp onion powder
2 small heads broccoli, diced
3 Tbsp butter
⅓ cup flour
3½ – 4 cups milk
4 cups shredded cheddar cheese
1 tsp salt
½ tsp garlic pepper
6 slices bacon, cooked and chopped
3. Directions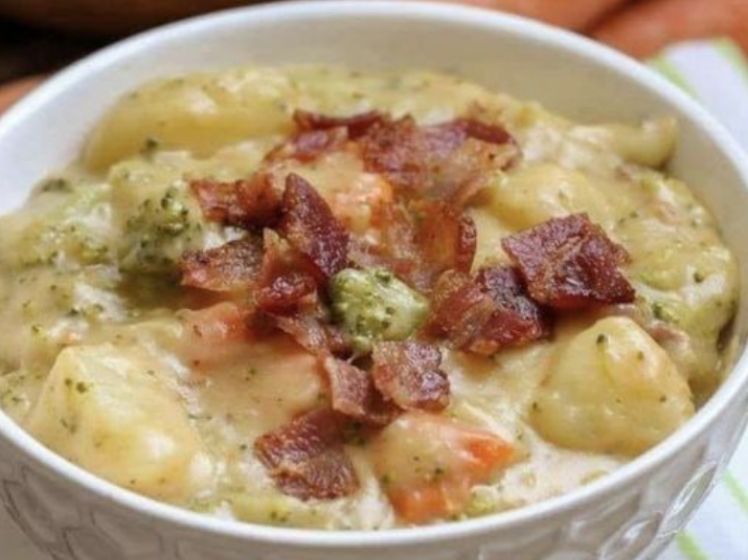 In a large pot, combine chicken broth, carrots, potatoes, and onion powder.
Bring to a boil, cover, and simmer for about 10 minutes.
Add broccoli, cover, and simmer for an additional 10 minutes.
4. How to Prepare
In a saucepan, melt butter over medium heat.
Whisk in flour and cook until golden brown.
Gradually whisk in milk, cooking for 5 minutes until thick.
Add cheese, stirring until melted. Season with salt and garlic pepper.
Pour cheese sauce into the pot, stirring well.
Adjust thickness with additional milk, if desired. Season to taste.
5. Preparation Time
Total Time: Approximately 40 minutes
Cooking Time: 30 minutes
Preparation Time: 10 minutes
6. Servings
7. FAQs
Q: Can I use vegetable broth instead of chicken broth? A: Absolutely! Vegetable broth is a great alternative for a vegetarian version.
Q: How can I make this soup gluten-free? A: Use a gluten-free flour blend for thickening or a cornstarch slurry.
Q: Can I freeze this soup? A: Yes, though the texture may change slightly upon reheating.
Q: What other cheeses can I use? A: Gouda, Monterey Jack, or a blend can add different flavors.
Q: How can I add more protein to this soup? A: Consider adding cooked, diced chicken or turkey for extra protein.
8. Conclusion
Our Loaded Broccoli, Cheese, and Potato Soup is more than just a recipe; it's a journey into the heart of home cooking. Each spoonful is packed with the goodness of fresh vegetables, creamy cheese, and a hint of smoky bacon. It's a versatile dish, easily adaptable to various dietary needs, and a perfect candidate for batch cooking or a comforting meal for a family gathering. Embrace the simplicity and richness of this soup and let it warm your heart and home.