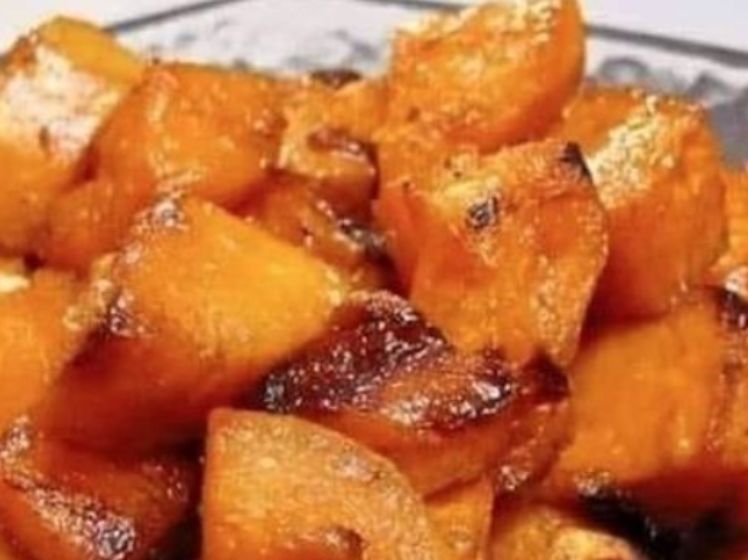 Introduction
Roasted sweet potatoes, with their natural sweetness and rich, velvety texture, have become a staple in kitchens worldwide. Perfect as a hearty side dish or a healthy snack, these golden delights are not just delicious but also packed with nutrients. This recipe elevates the humble sweet potato into a culinary masterpiece, infusing it with aromatic spices and a hint of sweetness that will tantalize your taste buds. Whether you're a seasoned chef or a beginner in the kitchen, this straightforward recipe promises to deliver a dish that's as nutritious as it is flavorful.
Ingredients
2 tsp olive oil
1 tbsp butter
3 Sweet potatoes, peeled and cut into bite-size cubes
1 tbsp of brown sugar (adjust to taste)
Pinch of ground ginger
1 tsp of ground cinnamon
1/4 tsp of ground nutmeg
Sea salt, to taste
Directions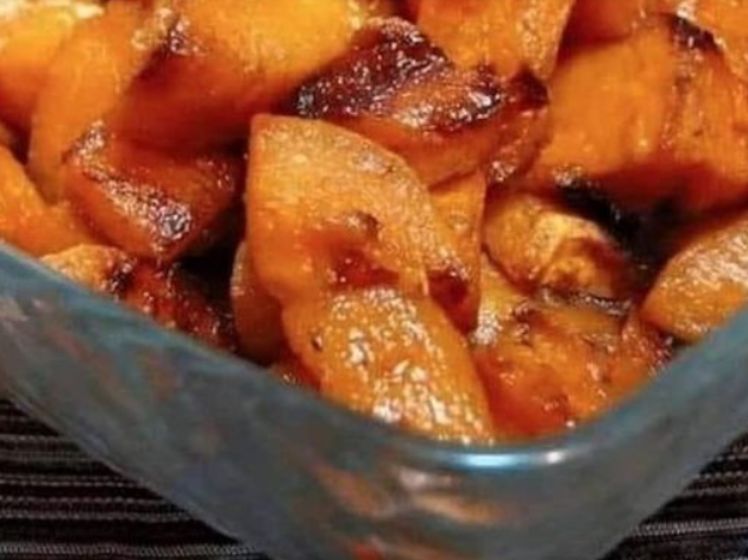 Preheat the oven to 350 degrees.
Coat a small baking dish with cooking spray.
Peel and dice the sweet potatoes into bite-size cubes and place them in the baking dish.
Melt butter in the microwave and pour over the potatoes along with the olive oil, brown sugar, cinnamon, nutmeg, ginger, and salt.
Add more sugar or cinnamon if desired. Toss to coat evenly.
Bake in the oven for 60 minutes.
Stir the sweet potatoes once or twice during roasting.
Serve hot and enjoy.
How to Prepare
For the best results, ensure that the sweet potatoes are cut into even-sized cubes to promote uniform cooking. The key is to coat them thoroughly with the spice and butter mixture, ensuring every piece is well-seasoned. Adjust the amount of brown sugar and spices according to your taste preference.
Preparation Time
Prep time: 10 minutes
Cook time: 60 minutes
Total time: 70 minutes
Servings
This recipe serves 4-6 people, making it ideal for family meals or small gatherings.
FAQs
Q: Can I use other types of oil instead of olive oil? A: Yes, you can substitute olive oil with other oils like coconut or vegetable oil.
Q: How can I make this dish vegan? A: Simply replace butter with a vegan alternative or use more olive oil.
Q: Can I add other spices to this recipe? A: Absolutely! Feel free to experiment with spices like paprika or cayenne for a spicy kick.
Q: How do I know when the sweet potatoes are done? A: They should be tender and slightly caramelized on the edges after roasting.
Q: Can I prepare this dish in advance? A: Yes, you can roast the sweet potatoes ahead of time and reheat them before serving.
Conclusion
Our Heavenly Roasted Sweet Potatoes recipe is a testament to the magic of simple ingredients coming together to create something truly special. This dish is not just a treat for your palate but also a feast for your eyes, with its vibrant colors and inviting aroma. Whether it's a cozy family dinner or a festive occasion, these roasted sweet potatoes are sure to impress. So, preheat your oven, and let's embark on this delightful culinary journey together. Bon appétit!