1. Introduction
Cheesecake lovers, rejoice! We're bringing back a classic favorite – the Woolworth Cheesecake. This delightful dessert, popularized by the iconic Woolworth's lunch counters, is known for its creamy texture and lemony zest. It's a perfect blend of nostalgia and deliciousness, making it a hit at family gatherings, parties, or just a quiet night in. In this recipe, we'll guide you through each step, ensuring your Woolworth Cheesecake turns out just as scrumptious as you remember.
2. Ingredients
1 3oz packet of lemon Jell-O
1 cup boiling water
3 cups graham cracker crumbs (extra for thicker crust)
1 stick of melted butter
8oz cream cheese
1 cup granulated sugar
5 tbsp lemon juice
1 can evaporated milk, well chilled or 1 1/2 cups heavy whipping cream
3. & 4. Directions & How to Prepare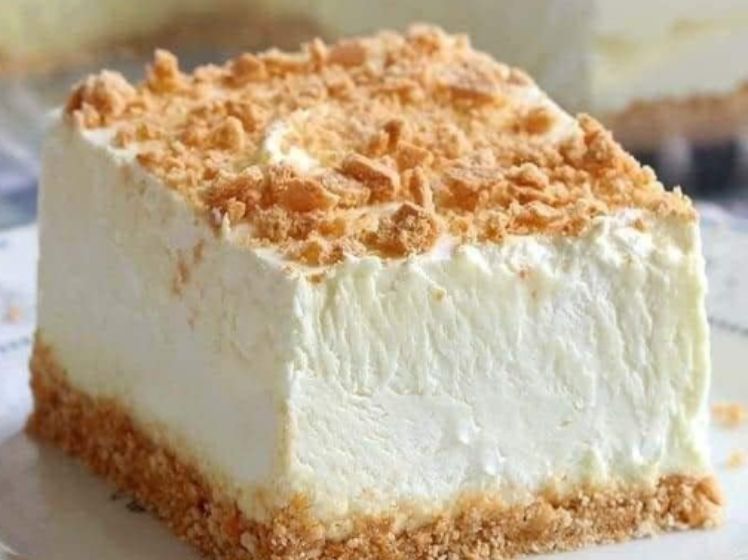 Begin by dissolving the lemon Jell-O in boiling water. Allow it to cool until it's slightly thickened.
In a bowl, mix 3/4 of the graham cracker crumbs with melted butter until well combined. Press this mixture into the bottom of a 9×13 inch pan to form the crust. Reserve the remaining crumbs for topping.
Whip the evaporated milk or heavy cream until it becomes fluffy.
In a separate bowl, beat the cream cheese with sugar and lemon juice until the mixture is smooth.
Gradually add the thickened Jell-O to the cream cheese mixture, mixing slowly.
Fold in the whipped milk or cream gently.
Spread this filling over your prepared crust. Sprinkle the top with the reserved graham cracker crumbs.
Refrigerate the cheesecake for at least 2 hours, or overnight for best results.
5. Preparation Time
Total Time: Approximately 2.5 hours (includes chilling time)
6. Servings
This recipe serves up to 12 people.
7. FAQs
Q: Can I use fresh whipped cream instead of evaporated milk?

A: Absolutely! Fresh whipped cream makes a great substitute and adds a richer flavor.

Q: How long can I store the cheesecake in the refrigerator?

A: The cheesecake can be stored, covered, in the refrigerator for up to 5 days.

Q: Can I freeze Woolworth Cheesecake?

A: Yes, it freezes well. Just wrap it tightly and it can be stored frozen for up to a month.

Q: Is there a substitute for lemon juice?

A: Lime juice or orange juice can be used for a different citrus twist.

Q: Can I make a gluten-free version?

A: Yes, simply use gluten-free graham crackers for the crust.
8. Conclusion
Creating this Woolworth Cheesecake not only brings a slice of nostalgia to your table but also offers the joy of sharing a sweet, creamy, and tangy dessert with loved ones. Whether it's for a special occasion or a regular day, this cheesecake promises to be a crowd-pleaser. Its ease of preparation makes it ideal for both novice and experienced bakers. So, gather your ingredients and take a delicious trip down memory lane with this classic Woolworth Cheesecake!