Introduction
Cooking a wholesome and delicious meal doesn't have to be a day-long affair. With our One-Skillet Savory Beef Tips and Gravy recipe, you can prepare a restaurant-quality dish right in your kitchen, and all in one pan! This dish is a hearty blend of tender beef and rich, aromatic gravy, perfect for those evenings when you crave something satisfying yet straightforward. The combination of crimini mushrooms, succulent beef, and a sumptuous gravy makes this recipe a must-try for meat lovers. Not only is it packed with flavor, but it's also incredibly easy to prepare, making it an ideal choice for both beginners and seasoned cooks.
Ingredients
3 tablespoons butter
1/2 lb sliced crimini mushrooms
1/2 cup finely chopped onion
2 large cloves garlic, minced
1 lb beef tenderloin or high-quality beef steak, cut into bite-size strips
2 tablespoons flour
1/4 teaspoon salt
1/4 teaspoon fresh ground pepper
2 tablespoon olive oil
1/3 cup quality red wine
1 (14 ounce) can low sodium beef broth
2 tablespoons Worcestershire Sauce
1/4 cup flour (preferably Wondra flour)
Salt & Pepper to taste
Directions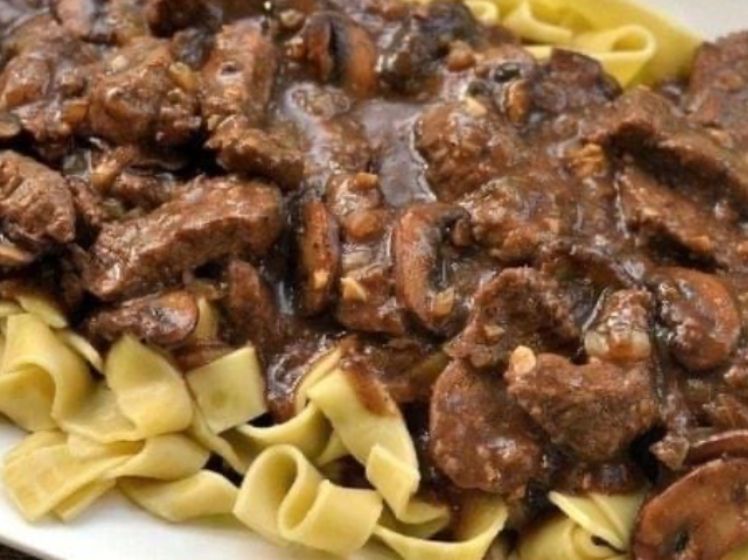 Melt butter in a large skillet over medium-high heat.
Add mushrooms, cook until golden brown (about 8 minutes).
Stir in onions, cook until soft and mushrooms are golden.
Reduce heat, add garlic, cook for 30 seconds, then transfer to a plate.
How to Prepare
In a large ziplock bag, combine flour, steak bites, salt, and pepper. Shake to coat.
Heat olive oil in the skillet, add steak, and brown.
Remove steak, add red wine to deglaze the pan, scraping up brown bits.
Reserve 1/2 cup beef broth; add remaining broth and Worcestershire Sauce to the skillet. Simmer for 5 minutes.
In a bowl, whisk reserved broth with 1/4 cup flour.
Stir this mixture into the skillet, cook until thickened.
Return mushroom mixture and beef to the pan, simmer for 5-10 minutes. Season with salt and pepper.
Preparation Time
Total Time: 40 minutes
Cooking Time: 30 minutes
Preparation Time: 10 minutes
Servings
Serves 4 people generously
FAQs
Can I substitute the beef tenderloin? Yes, any good quality beef steak works well in this recipe.
Is it necessary to use Wondra flour? No, but Wondra flour helps in creating a smoother, lump-free gravy.
Can this dish be made ahead of time? Yes, it reheats well, making it perfect for meal prep.
What can I serve this with? It pairs beautifully with egg noodles, rice, or mashed potatoes.
Can I use white wine instead of red? Red wine is recommended for its rich flavor, but in a pinch, white wine can be used.
Conclusion
Our One-Skillet Savory Beef Tips and Gravy is more than just a recipe; it's a journey into the world of comfort cooking. This dish stands out with its rich flavors, tender meat, and the convenience of using just one skillet. It's a testament to the fact that gourmet meals need not be complicated. Whether you're a novice or a pro in the kitchen, this recipe is bound to impress. So, why wait? Gather your ingredients and let's bring this culinary delight to your table!