1. Introduction
Welcome to the delightful world of homemade Golden Delight Butter Cookies! These cookies are not just treats; they're a journey back to childhood kitchens, filled with the aroma of butter and vanilla. Perfect for teatime, these cookies are a testament to the magic of simple ingredients. Whether you're a baking novice or a seasoned pro, this recipe is designed to guide you effortlessly through each step, promising cookies that are golden, buttery, and melt in your mouth.
2. Ingredients
200 grams pomade butter (room temperature)
120 grams sugar
280 grams wheat flour
1 teaspoon vanilla essence
3. Directions
Blend room temperature butter with sugar until well incorporated.
Stir in vanilla essence.
Gradually add sifted flour, mixing until smooth.
4. How to Prepare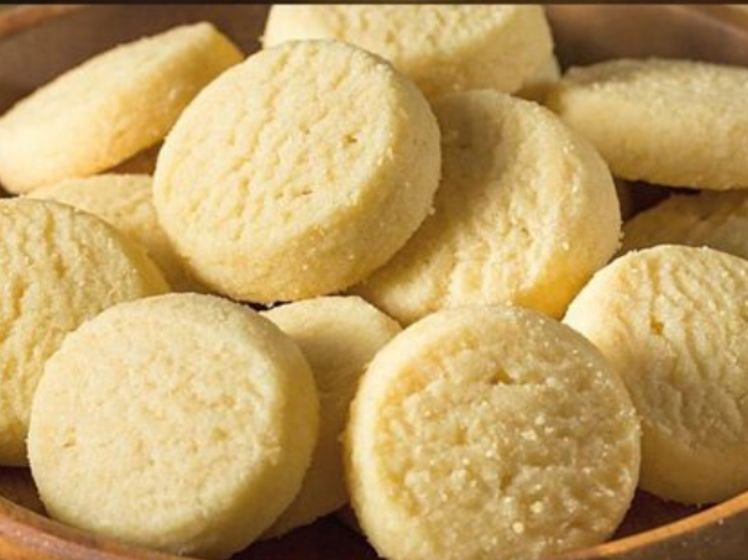 In a bowl, thoroughly blend the pomade butter with sugar.
Add vanilla essence and mix.
Sift flour and fold it into the mixture for a smooth dough.
Shape the dough into a roll, wrap in film, and refrigerate for 1 hour.
Slice the chilled dough into 1 cm thick pieces.
5. Preparation Time
Mixing: 15 minutes
Chilling: 1 hour
Baking: 11-12 minutes per batch
6. Servings
This recipe yields approximately 24 cookies.
7. FAQs
Q: Can I use salted butter?
A: Yes, but reduce any added salt.
Q: How do I store the cookies?
A: In an airtight container at room temperature.
Q: Can the dough be frozen?
A: Yes, for up to 3 months.
Q: Why are my cookies hard?
A: Overmixing the dough or overbaking can cause this.
Q: Can I add chocolate chips?
A: Absolutely, add them with the flour.
8. Conclusion
Golden Delight Butter Cookies are more than just a recipe; they're a delightful expression of love and care. These cookies, with their perfect blend of buttery goodness and vanilla aroma, are sure to bring a smile to anyone's face. Whether you're baking for a special occasion or just for a cozy afternoon snack, these cookies are bound to be a hit. Happy baking, and enjoy the golden moments these cookies bring to your life!