Introduction
Welcome to the world of comforting soups! Hearty Hamburger Soup isn't just a dish; it's a warm hug in a bowl. This recipe combines the heartiness of ground beef with the wholesomeness of fresh vegetables and spices, creating a soup that's both nourishing and satisfying. Ideal for chilly evenings or as a comforting meal any day, this soup promises to delight your taste buds and soothe your soul. So, let's embark on this culinary journey to create a soup that's as easy to make as it is delicious to eat!
Ingredients
2 lbs lean ground beef
1 white onion, diced
1/4 tsp ground black pepper, more to taste
1/2 tsp dry oregano, more to taste
1/2 tsp dry basil, more to taste
1/4 tsp seasoning salt
1 (1 1/2 oz) envelope onion soup mix
6 cups water, more for desired consistency
1 (8 oz) can tomato sauce
1 tbsp soy sauce
1 (15 oz) can diced tomatoes, undrained
1 (15 oz) can corn, drained
1 cup celery, sliced
1/4 cup celery leaves, chopped
1 cup carrots, sliced
1 cup potatoes, cubed
Garlic salt, to taste
Shredded Parmesan cheese, for serving
Sour cream, for serving
Directions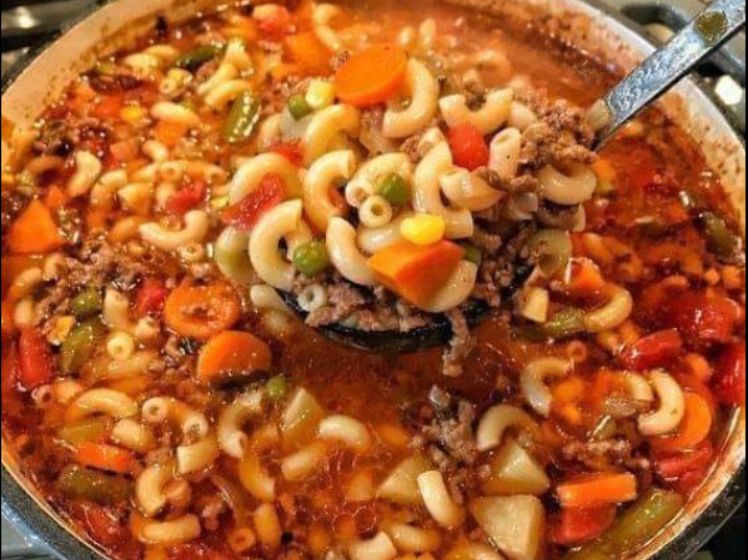 In a large pot, brown the ground beef and onion. Drain excess fat.
Stir in black pepper, oregano, basil, seasoning salt, and onion soup mix.
Add water, tomato sauce, and soy sauce. Bring to a boil, then simmer covered for 15 minutes.
Add vegetables, including potatoes. Return to a boil, then simmer uncovered until vegetables are tender, about 30 minutes. Add more water if necessary.
Season with garlic salt to taste.
Serve hot, topped with shredded Parmesan and a dollop of sour cream.
How to Prepare
Use a large, heavy-bottomed pot to ensure even cooking.
Sauté onions until translucent before adding the beef for better flavor infusion.
Gradually add spices to adjust to your taste preference.
Stir occasionally to prevent sticking and ensure even cooking of vegetables.
Taste and adjust seasonings before serving for the perfect balance of flavors.
Preparation Time
Prep time: 15 minutes
Cook time: 45 minutes
Total time: 1 hour
Servings
This recipe serves 6 to 8 people, making it perfect for family meals or gatherings.
FAQs
Can I use a different type of meat? Yes, you can substitute ground turkey or chicken for a lighter version.
How can I make this soup vegetarian? Replace the beef with a plant-based meat alternative and use vegetable broth instead of water.
Can I freeze this soup? Yes, this soup freezes well. Cool completely and store in freezer-safe containers.
What can I serve with this soup? Crusty bread or a green salad pairs wonderfully.
How can I thicken the soup? Mix a tablespoon of cornstarch with water and stir into the soup to thicken.
Conclusion
Creating Hearty Hamburger Soup is more than just following a recipe; it's about crafting a meal that warms the heart and satisfies the soul. This soup, with its rich flavors and wholesome ingredients, is perfect for any day when you need a little extra comfort. It's versatile, easy to make, and even easier to love. Whether you're gathering around the table with family or enjoying a quiet meal alone, this Hearty Hamburger Soup is sure to become a cherished recipe in your culinary repertoire.