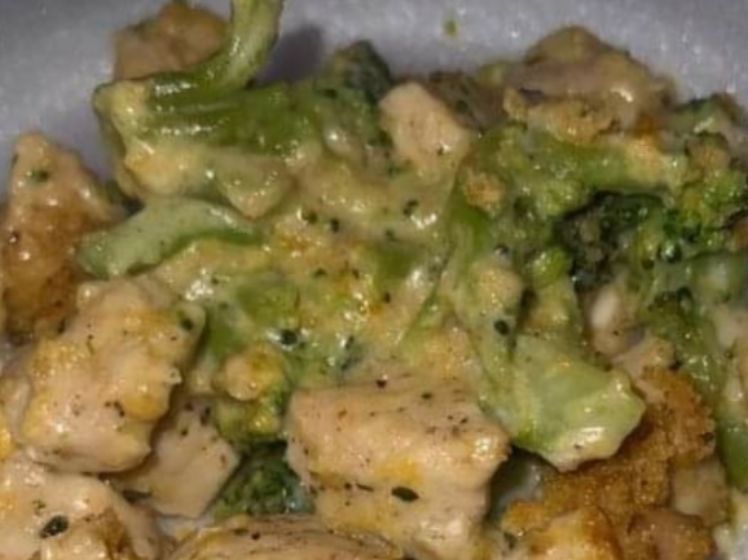 1. Introduction
Craving a heartwarming meal that brings both comfort and flavor to your dinner table? Look no further than the Broccoli Chicken Casserole! This dish is a harmonious blend of tender chicken pieces, nutritious broccoli, and a creamy cheese sauce, all topped with a golden breadcrumb crust. Whether you're looking to impress guests or simply want to enjoy a cozy family meal, this casserole is a surefire winner. It's easy to prepare, versatile, and can be tailored to suit your taste buds. Join us as we delve into the world of this comforting classic, where every bite is a reminder of home-cooked goodness.
2. Ingredients
4 chicken breasts, cut into bite-size pieces (or 3 cups cooked chicken)
1 tablespoon olive oil (for raw chicken)
1 ½ – 2 pounds broccoli, bite-sized
1 ½ cups shredded cheddar cheese, divided
10 ½ ounces condensed cream of mushroom or chicken soup
⅔ cup sour cream
½ cup milk
½ teaspoon each of garlic powder, onion powder, dry mustard powder, and pepper
¼ teaspoon kosher salt
Breadcrumb Topping: 3 tablespoons Panko breadcrumbs or buttery crackers, 1 tablespoon melted butter
3. & 4. Directions & How to Prepare
Preheat your oven to 400°F and grease your baking dish. If using raw chicken, cook it in olive oil over medium-high heat until done. Set aside. Boil the broccoli for 2-3 minutes until tender-crisp, drain, and lay it in the baking dish. In a bowl, mix 1 cup cheese, soup, sour cream, milk, and seasonings. Stir in the chicken and spread over the broccoli. Top with remaining cheese. Combine breadcrumbs with melted butter and sprinkle over the casserole. Bake for 20-22 minutes until bubbly and golden.
5. Preparation Time
Prepping: 15 minutes
Cooking: 35 minutes (including chicken and casserole baking)
Total Time: 50 minutes
6. Servings
This recipe comfortably serves 6 people.
7. FAQs
Q: Can I use frozen broccoli? A: Yes, just thaw and drain it well before use.
Q: Can I make this gluten-free? A: Absolutely, use gluten-free breadcrumbs and soup.
Q: Can I prepare this in advance? A: Yes, assemble the casserole and refrigerate, bake when ready.
Q: What can I serve this with? A: It pairs well with rice, noodles, or mashed potatoes.
Q: Can I substitute the chicken? A: Yes, turkey or even a plant-based substitute works well.
8. Conclusion
Our Broccoli Chicken Casserole is not just a dish; it's a warm hug on a plate. It's a reminder of family gatherings, laughter around the dinner table, and the simple joys of a home-cooked meal. This casserole is versatile, allowing you to tweak it according to your dietary needs or taste preferences. Whether it's a chilly winter night or a casual dinner party, this casserole is sure to be a crowd-pleaser. So, gather your ingredients, preheat your oven, and get ready to indulge in a dish that promises to be a staple in your culinary repertoire.