1. Introduction
Welcome to the world of delicious desserts where we combine the tropical zest of pineapples with the softness of a fluffy cake to create Mini Pineapple Flips. This recipe is not just a treat for the taste buds but also a visual delight, perfect for gatherings, or as a special treat for your family. With its rich caramelized pineapple base topped with a light, airy cake, each mini flip offers a burst of sweet and tangy flavors. Whether you're a seasoned baker or a novice in the kitchen, these Mini Pineapple Flips are straightforward to make and are sure to impress.
2. Ingredients
2 boxes flour prepared for pineapple cake
6 eggs
1 cup oil
2 cups pineapple juice
2 sticks unsalted butter
2 cups brown sugar
2 cans sliced pineapple
1 jar of maraschino cherries
3. Directions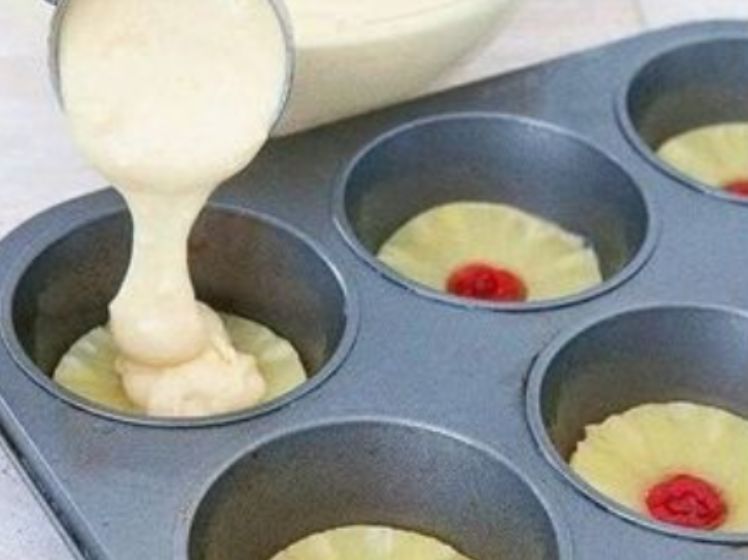 Preheat the oven to 350° F.
In a saucepan, melt the butter and stir in the brown sugar until a caramel forms.
Lightly oil cupcake molds with a paper towel.
Spoon a dollop of caramel into each mold.
Puree the pineapple, reserving the juice.
Cut each pineapple slice into 8 parts, placing 3 pieces in each mold.
Halve the cherries and place one half in each mold.
4. How to Prepare
Follow the package instructions for the cake mix.
In a bowl, combine the cake mix, eggs, pineapple juice, and oil.
Using a mixer, blend until smooth.
Pour the mixture into each mold, filling one-third full.
Bake for about 20 minutes, or until a toothpick comes out clean.
After baking, allow to cool for 10 minutes before unmolding.
5. Preparation Time
Total Time: Approximately 45 minutes
Prep Time: 15 minutes
Baking Time: 20 minutes
Cooling and Unmolding: 10 minutes
6. Servings
Makes about 24 Mini Pineapple Flips
7. FAQs
Q1: Can I use fresh pineapple instead of canned? A1: Absolutely! Fresh pineapple can be used but ensure it's finely chopped for even cooking.
Q2: What if I don't have pineapple cake mix? A2: You can use a plain yellow cake mix and add a teaspoon of pineapple extract for flavor.
Q3: How long can I store these Mini Pineapple Flips? A3: They can be stored in an airtight container for up to 3 days at room temperature.
Q4: Can I make these in advance? A4: Yes, they can be prepared a day ahead. Just reheat slightly before serving.
Q5: Are these suitable for freezing? A5: They freeze well. Thaw at room temperature before serving.
8. Conclusion
Mini Pineapple Flips are more than just a dessert; they are a delightful experience. Each bite takes you on a tropical journey with its combination of sweet caramel, tangy pineapple, and soft cake. They're perfect for any occasion or just as a special treat for yourself. Easy to make and even easier to love, these mini delights are sure to become a favorite in your recipe collection. So, preheat your oven and get ready to bake your way into the hearts of everyone who tries these irresistible Mini Pineapple Flips.