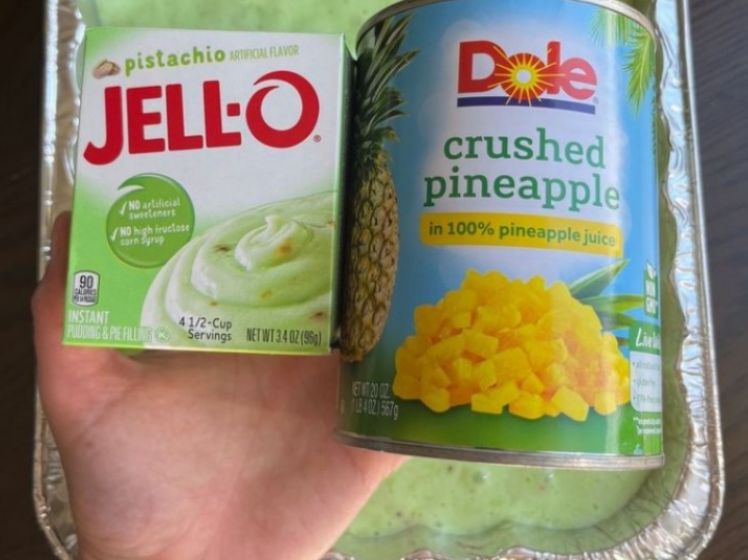 1. Introduction
Embark on a culinary journey to a tropical paradise with our Pistachio Pineapple Cake! This delightful treat combines the lightness of angel food cake with the rich, nutty flavor of pistachios and the sweet, tangy zest of pineapple. Ideal for any occasion, whether it's a summer party or a cozy family gathering, this cake promises to be a crowd-pleaser. Not only is it visually stunning, but its unique flavor combination will have your guests asking for seconds. Let's start baking this heavenly dessert that's sure to add a touch of elegance to your table.
2. Ingredients
1 box angel food cake mix
1 (3.4 oz) box pistachio pudding mix
½ cup vegetable oil
3 eggs
1 (20 oz) can crushed pineapple with juices
For Frosting:

8 oz tub cool whip, thawed
⅔ cup whole milk
1 (3.4 oz) box pistachio pudding mix
Chopped pistachios for decoration
3. Directions
Preheat the oven to 350°F (175°C).
Grease a 9×13 inch baking dish.
4. How to Prepare
In a large bowl, combine the angel food cake mix, pistachio pudding mix, vegetable oil, eggs, and crushed pineapple with its juices. Mix thoroughly until well combined.
Pour the batter into the prepared baking dish.
Bake for 30-35 minutes or until a toothpick inserted into the center comes out clean.
Allow the cake to cool completely.
5. Preparation Time
Prep time: 20 minutes
Bake time: 30-35 minutes
Cooling time: 1 hour
Total time: Approximately 2 hours
6. Servings
This recipe yields about 12 servings.
7. FAQs
Can I use fresh pineapple instead of canned? Yes, but make sure it's finely crushed and measure out 20 oz.
Can I make this cake ahead of time? Absolutely! It's even better when the flavors meld overnight.
What if I don't have cool whip? You can substitute with homemade whipped cream.
Can I use a different type of oil? Yes, any neutral-flavored oil like canola will work.
Is it necessary to refrigerate the cake? Yes, refrigeration helps to set the frosting and enhances the flavors.
8. Conclusion
Our Pistachio Pineapple Cake is a testament to the joy of baking and the beauty of combining simple ingredients to create something truly extraordinary. Every bite of this cake is a delightful mix of airy, sweet, and nutty flavors, topped off with a creamy frosting that ties it all together. It's a dessert that not only looks spectacular on your dining table but also brings a burst of tropical flavors to your palate. Whether you're a seasoned baker or a beginner, this recipe is a foolproof way to impress your loved ones and add a touch of tropical bliss to any occasion. Happy baking and savor the taste of paradise in every slice!