Introduction
There's something undeniably comforting about a bowl of chili on a crisp fall day. The rich flavors, the warmth it brings, and the way it fills your home with delicious aromas—it's the epitome of comfort food. Today, we're bringing the beloved Wendy's chili right into your kitchen. This recipe is not just about savoring a bowl of chili; it's about creating memories around the dining table. Whether it's a family dinner or a cozy meal for one, this Wendy's-style chili is sure to warm your heart and tummy.
Ingredients
2 pounds fresh ground beef
1 quart tomato juice
1 (29-ounce) can tomato purée
1 (15-ounce) can red kidney beans, drained
1 (15-ounce) can pinto beans, drained
1 medium-large onion, chopped (about 1 1/2 cups)
1/2 cup diced celery
1/4 cup diced green bell pepper
1/4 cup chili powder
1 teaspoon ground cumin
1 1/2 teaspoons garlic powder
1 teaspoon salt
1/2 teaspoon ground black pepper
1/2 teaspoon dried oregano
1/2 teaspoon sugar
1/8 teaspoon cayenne pepper
Directions
In a large skillet, brown the ground beef. Drain off the fat.
Transfer the beef to a 6-quart pot.
Add the remaining ingredients to the pot with beef.
Cover the pot and let the chili simmer for 1 to 1 1/2 hours, stirring every 15 minutes.
How to Prepare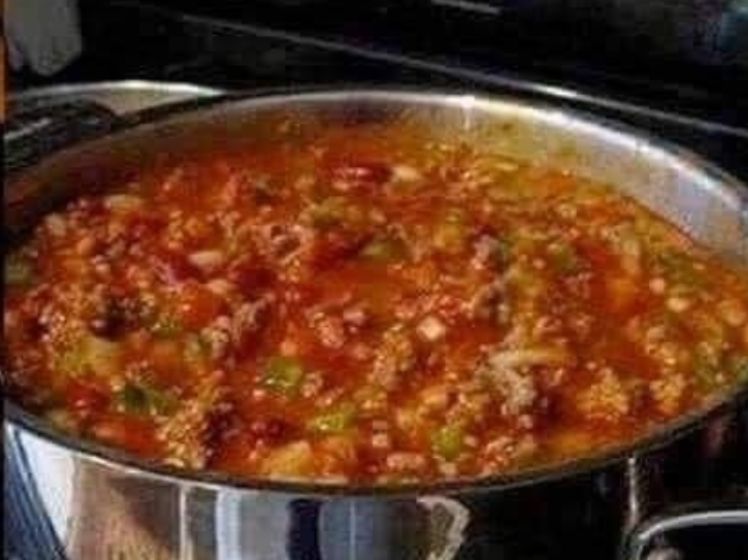 Use a large skillet to ensure even cooking of the ground beef.
Drain the beef well to remove excess fat for a healthier chili.
Simmering the chili allows the flavors to meld beautifully.
Preparation Time
Prepping the ingredients: 15 minutes
Cooking time: 1 to 1 1/2 hours
Total time: Approximately 1 hour and 45 minutes
Servings
This recipe yields 8 hearty servings.
FAQs
Can I make this chili in a slow cooker? Yes, cook on low for 3 to 4 hours for tender, flavorful chili.
How can I make the chili milder or spicier? Adjust the chili powder and cayenne pepper to suit your taste.
What can I serve with this chili? Cornbread, rice, or a green salad pair wonderfully.
Can the chili be frozen? Yes, it freezes well for up to 3 months.
Is it possible to make this recipe vegetarian? Substitute ground beef with a plant-based alternative.
Conclusion
Wendy's chili has always been more than just a menu item—it's a source of comfort and a reminder of simple, homely pleasures. With this recipe, you now have the power to recreate this experience in your own kitchen. It's perfect for a family gathering, a quiet evening, or even as a thoughtful meal for a friend in need. So, tie on your apron, and let the comforting journey of cooking begin!