1. Introduction
Nothing beats the comforting taste of fried potatoes, but have you tried them oven-fried with a tantalizing addition of onions and bacon? Our Oven-Fried Potatoes & Onions recipe offers a healthier alternative to traditional frying, while still delivering that delightful crispy texture and deep flavor. This dish, combining the earthy taste of red potatoes with the sweet and savory notes of onions and bacon, is not just a side dish; it's a showstopper on any dinner table. The ease of preparation and minimal ingredients make it a perfect choice for busy weeknights or a cozy weekend meal.
2. Ingredients
5 pounds red potatoes, thinly sliced or cubed
1 onion, finely chopped
6 slices bacon, chopped
½ cup butter, diced
Salt and pepper, to taste
3. & 4. Directions & How to Prepare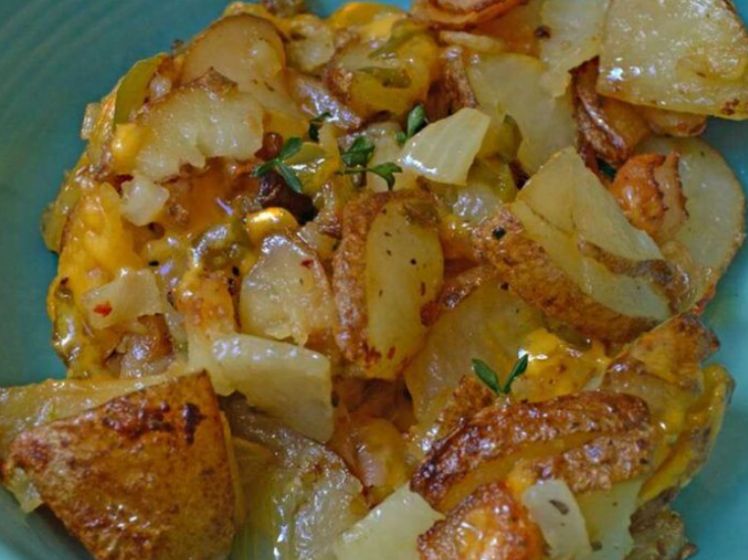 Preheat your oven to 400°F (200°C). Grease a 9×13 inch casserole dish.
Arrange the potatoes in an even layer in the greased dish.
Sprinkle the chopped onion and bacon evenly over the potatoes.
Dot the surface with diced butter.
Cover the dish with aluminum foil and bake in the preheated oven for 45 minutes.
After 45 minutes, remove the foil. Stir the potatoes gently.
Switch your oven to the broiler setting. Let the potatoes brown for about 5 minutes, stirring every minute to ensure even browning. The potatoes should turn crispy and golden.
5. Preparation Time
Prep time: 15 minutes
Cook time: 50 minutes
Total time: 65 minutes
6. Servings
This recipe serves 6-8 people, making it ideal for family dinners or gatherings.
7. FAQs
Q: Can I use other types of potatoes for this recipe? A: Yes, you can use Yukon Gold or russet potatoes, but red potatoes hold their shape better.
Q: Is it necessary to peel the potatoes? A: No, keeping the skin on adds texture and nutrients.
Q: Can I make this dish vegetarian? A: Absolutely! Omit the bacon or use a vegetarian bacon substitute.
Q: How can I store leftovers? A: Store in an airtight container in the fridge for up to 3 days. Reheat in the oven for best texture.
Q: Can I add other spices or herbs? A: Yes, feel free to add garlic, paprika, rosemary, or any of your favorite herbs.
8. Conclusion
Our Oven-Fried Potatoes & Onions recipe is more than just a dish; it's a celebration of simple ingredients coming together to create something extraordinary. The blend of crispy potatoes, fragrant onions, and savory bacon creates a symphony of flavors and textures that comfort the soul. This dish is versatile enough to be a hit at any meal, be it a hearty breakfast, a satisfying lunch, or a comforting dinner. So, next time you crave something deliciously comforting, remember this recipe – it's easy, delicious, and sure to impress!