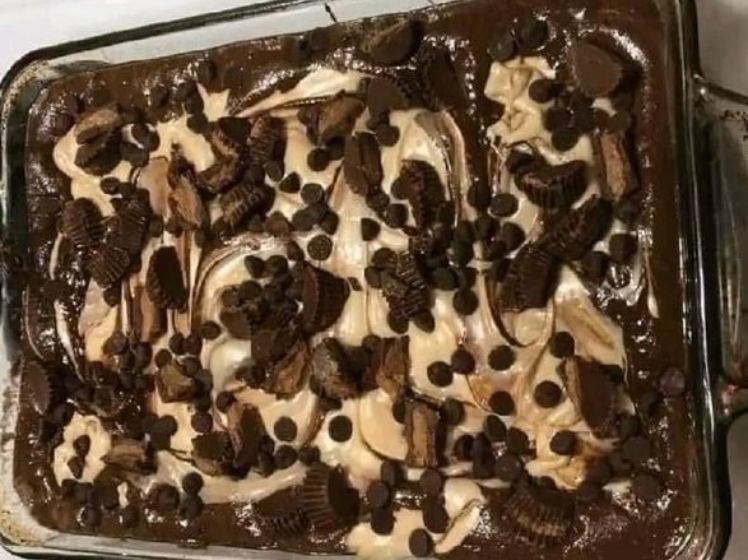 1. Introduction
Chocolate and peanut butter – a match made in heaven, right? When these two come together in the form of a cake, it's nothing short of a culinary earthquake! The Chocolate Peanut Butter Earthquake Cake we're about to dive into is not just a dessert; it's an experience. With its rich dark chocolate base, creamy peanut butter swirls, and a surprise crunch from mini Reese's cups, this cake promises to shake up your taste buds in the best way possible. Ideal for celebrations or as a comforting treat, this recipe is both easy to make and impossible to resist. So, let's get ready to create some sweet tremors in your kitchen!
2. Ingredients
1 Box Dark Chocolate Fudge Cake Mix (plus required oil, eggs, and water)
8 oz Softened Cream Cheese
1/2 Cup Softened Butter
1/2 Cup Creamy Peanut Butter
1 teaspoon Vanilla Extract
4 Cups Powdered Sugar
1/2 Cup Chocolate Chips
1 Cup Miniature Reese's Peanut Butter Cups, Unwrapped and Halved
3. & 4. Directions & How to Prepare
Preheat and Prep: Start by preheating your oven to 350° F. Grease a 9 x 13 baking dish with non-stick cooking spray.
Cake Base: In a large bowl, mix the ingredients for your chocolate fudge cake as per the box instructions. Pour the batter into the greased baking dish.
Peanut Butter Mixture: In another bowl, blend together cream cheese, butter, peanut butter, and vanilla until smooth. Gradually mix in powdered sugar, one cup at a time.
Layering: Drop spoonfuls of the peanut butter mixture onto the cake batter. Gently spread it around, creating a marbled effect.
Add Extras: Sprinkle the Reese's peanut butter cup halves and chocolate chips evenly over the top.
5. Preparation Time
Prep Time: 15 minutes
Bake Time: 45-50 minutes
Total Time: Approximately 60-65 minutes
6. Servings
This recipe yields about 12-15 servings, making it perfect for gatherings or a family treat.
7. FAQs
Q: Can I make this cake ahead of time? A: Absolutely! You can prepare the cake a day in advance and refrigerate it. Just bring it to room temperature before serving.
Q: Can I use natural peanut butter? A: Yes, but it may alter the texture slightly. Creamy commercial peanut butter works best for this recipe.
Q: What's the best way to store leftovers? A: Store any leftovers in an airtight container in the refrigerator for up to 5 days.
Q: Can I freeze this cake? A: Yes, the cake freezes well. Wrap it tightly in plastic wrap and store in the freezer for up to 3 months.
Q: Can I make this cake gluten-free? A: Yes, use a gluten-free chocolate cake mix to make this recipe gluten-free.
8. Conclusion
The Chocolate Peanut Butter Earthquake Cake is a testament to how simple ingredients can create something extraordinarily delicious. Each bite of this cake is a delightful blend of textures and flavors, making it a showstopper at any event. Whether you're a seasoned baker or a novice, this recipe is forgiving and sure to yield delectable results. So, the next time you're looking to bake something special, remember this recipe and prepare to be amazed by the rave reviews it'll garner!