1. Introduction
Peach Cobbler Cheesecake is a delightful dessert that combines the creamy richness of cheesecake with the warm, spiced flavors of a classic peach cobbler. It's a perfect treat for those who love the fusion of different dessert worlds. In this recipe, the smooth cheesecake filling meets a crunchy Golden Graham crust, topped with a sweet and spicy peach cobbler layer. Every bite of this dessert is a journey through layers of texture and flavor that are sure to delight your taste buds.
2. Ingredients
Cheesecake Filling:
16 oz cream cheese
1½ cup sugar
1 tbsp vanilla extract
¼ cup cornstarch
3 large eggs
½ cup heavy whipping cream
Crust:
4 1/2 cups Golden Grahams
2 tbsp butter
1 tbsp ice water
1 cup white cake mix
Peach Topping:
2 -3 large peaches
1 cup sugar
1 tsp ground cinnamon
1/4 tsp ground nutmeg
1 1/2 cup water
1 tbsp butter
1 tsp vanilla extract
2 1/2 tbsp cornstarch
3. & 4. Directions & How to Prepare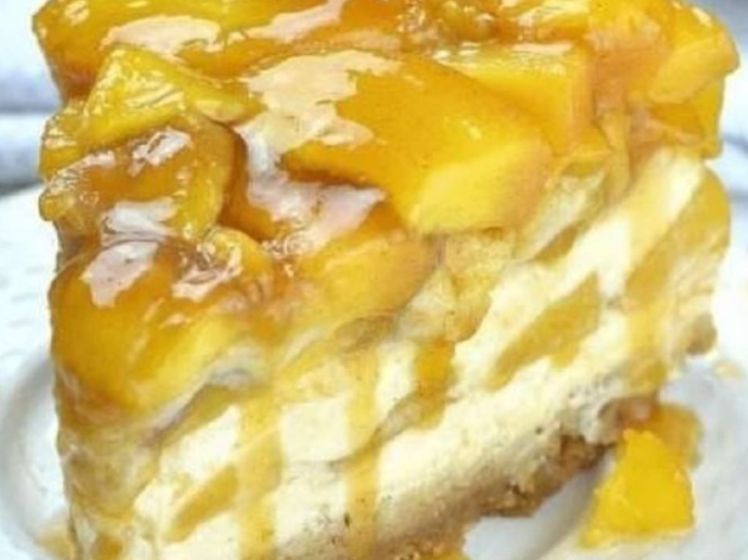 Crust Preparation: Pulse Golden Grahams, butter, and ice water in a food processor. Press ¾ of the mixture into a parchment-lined springform pan. Bake at 350°F for 5-10 minutes.
Filling: Mix cream cheese, sugar, vanilla, eggs, heavy whipping cream, and cornstarch until well combined. Pour into the crust.
Baking: Wrap the pan with foil and place in a roaster with 1 inch of hot water. Bake at 350°F for 30-35 minutes.
Crumble Topping: Combine remaining Golden Grahams with cake mix, butter, and water. Bake, then crumble.
Peach Topping: Cook peaches, sugar, spices, and water. Mix cornstarch with some water, add to peaches, boil, then cool.
Assembly: Oil the inner top part of the pan, pour peach topping on the cheesecake, and add crumble topping. Refrigerate for 2 hours.
5. Preparation Time
Total Time: Approximately 4 hours (including cooling and refrigeration)
6. Servings
7. FAQs
Q: Can I use canned peaches instead of fresh? A: Yes, canned peaches are a suitable substitute.
Q: How long can I store the cheesecake? A: It can be refrigerated for up to 5 days.
Q: Can I freeze this cheesecake? A: Yes, it can be frozen for up to a month.
Q: What if I don't have a springform pan? A: A regular cake pan can work, but it will be trickier to remove the cheesecake.
Q: Can I make this gluten-free? A: Yes, use gluten-free Grahams and cake mix.
8. Conclusion
This Peach Cobbler Cheesecake is more than just a dessert; it's a celebration of flavors and textures. Its layered complexity makes it an ideal choice for special occasions or when you want to treat yourself to something extraordinary. The balance of the creamy cheesecake, the crunchy crust, and the spiced peach topping creates a symphony of flavors that are bound to make this dessert a crowd favorite. Whether you're a seasoned baker or trying your hand at something new, this recipe guides you through each step, ensuring a delightful dessert experience. Enjoy the process and indulge in the results!