Introduction
Imagine the rich flavors of a classic pizza blended seamlessly with the comforting goodness of spaghetti. That's what our Baked Pizza Spaghetti offers—a fusion of Italian classics, bringing a twist to your dinner table. This dish is not just a meal; it's a celebration of flavors and textures, combining the heartiness of pasta with the zest of pizza toppings. Perfect for family dinners or special gatherings, this recipe is sure to impress.
Ingredients
8 oz package spaghetti, broken into 2-inch pieces
2 cups shredded mozzarella cheese, divided
¼ cup milk
1 large egg, beaten
¼ tsp salt
¼ tsp garlic salt
16 oz jar spaghetti sauce
1 tsp dried oregano
¼ tsp dried basil
4 oz pepperoni sausage, sliced
Directions
Preheat oven to 425°F (220°C). Grease a 9×13-inch baking dish.
Boil spaghetti until firm to the bite, about 8-10 minutes. Drain and rinse.
Mix ½ cup mozzarella, milk, egg, salt, and garlic salt. Add spaghetti.
Spread mixture in baking dish. Bake for 15 minutes at 425°F.
Reduce oven to 350°F (175°C). Add spaghetti sauce, herbs, cheese, and pepperoni.
Bake until cheese bubbles, about 30 minutes. Let stand for 5 minutes.
How to Prepare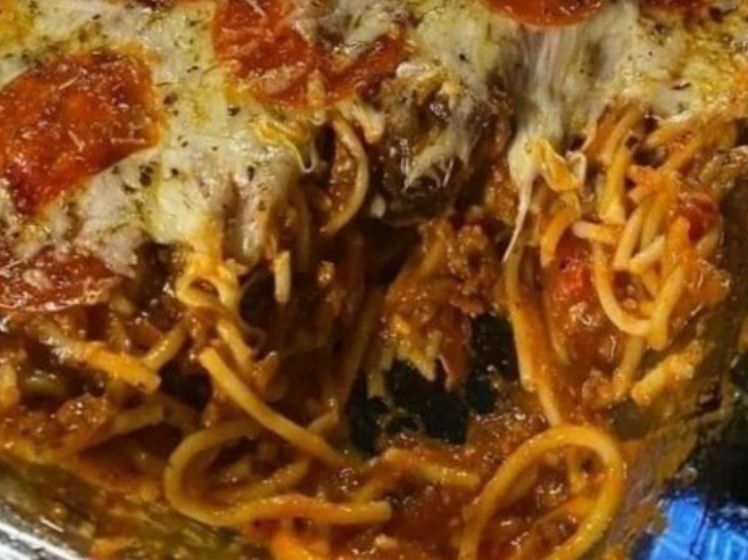 Combine cooked spaghetti with the egg and cheese mixture, ensuring each strand is coated. This forms the base of your dish. After initial baking, layering the spaghetti sauce, herbs, and the rest of the cheese creates a rich, pizza-like topping. Adding pepperoni as the final touch infuses the dish with classic pizza flavor.
Preparation Time
Total time: Approximately 60 minutes (Prep time: 15 minutes, Cook time: 45 minutes)
Servings
This recipe serves 6-8 people, making it perfect for family meals or small gatherings.
FAQs
Can I use different cheeses? Absolutely! Feel free to experiment with different cheeses like cheddar or Parmesan for varied flavors.
Can I add vegetables to the recipe? Yes, adding vegetables like bell peppers or mushrooms can enhance the taste and nutrition.
Is it possible to make this gluten-free? Yes, use gluten-free spaghetti to make this dish gluten-free.
Can I prepare this dish ahead of time? You can prepare the spaghetti base ahead and refrigerate. Add toppings and bake when ready to serve.
How long can I store leftovers? Store in an airtight container in the refrigerator for up to 3 days.
Conclusion
Baked Pizza Spaghetti is more than just a meal; it's a fusion of worlds, a blend of traditional Italian favorites that create a new, exciting dish. It's perfect for those evenings when you crave something different yet comforting. Easy to prepare, customizable, and utterly delicious, this recipe is a testament to the versatility and enduring appeal of Italian cuisine. So, gather your ingredients, and let's bring Italy to your kitchen tonight!