1. Introduction
Imagine the aroma of savory marinara sauce mingling with rich, melted mozzarella, all nestled within a perfectly toasted sub bread. That's exactly what you get with these homemade meatball subs. They are not only mouthwateringly delicious but also surprisingly easy to prepare, making them an ideal choice for a filling family dinner. This recipe, crafted from budget-friendly ingredients from Walmart and Dollar Tree, delivers a comforting meal that's both easy on your wallet and satisfying to your taste buds.
2. Ingredients
4 sub bread rolls ($3.48 for a pack of 6, using 4)
2 cups mozzarella cheese ($3.98, half a bag)
20 frozen meatballs ($5.86, half a bag)
1 jar of marinara sauce ($1.25)
3. Directions
Follow these steps :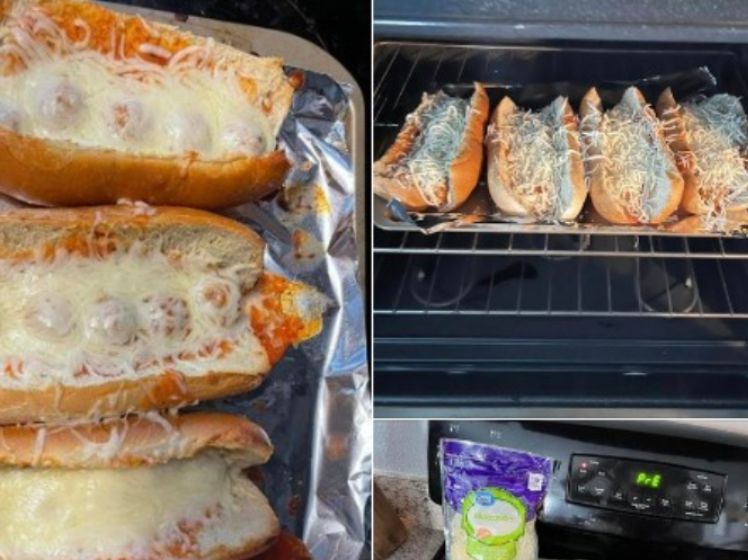 Preheat your oven to 350°F (175°C).
In a saucepan, heat the marinara sauce and add the frozen meatballs.
Cook over medium heat for about 20 minutes, or until the meatballs are tender.
4. How to Prepare
Slice open the sub bread rolls.
Once the meatballs are tender, spoon the meatball and sauce mixture into the rolls.
Generously top each sub with mozzarella cheese.
5. Preparation Time
Total Time: 35 minutes

Cooking time: 20 minutes
Baking time: 15 minutes
6. Servings
Makes 4 hearty subs, serving 2-4 people.
7. FAQs
Can I use fresh meatballs? Yes, you can. Cook them until they are browned and cooked through before adding the sauce.
How do I store leftovers? Wrap them in foil and refrigerate for up to 2 days. Reheat in the oven for best results.
Can I add other toppings? Absolutely! Feel free to add onions, peppers, or mushrooms for extra flavor.
Can I make this vegetarian? Yes, use plant-based meatballs and cheese as alternatives.
Is this recipe kid-friendly? Definitely! It's a hit with children due to its simple yet delicious taste.
8. Conclusion
This meatball sub recipe is a testament to the fact that delicious meals don't have to be complicated or expensive. With ingredients easily sourced from local stores, and a total preparation time of 35 minutes, this dish is perfect for busy weeknights or a comforting weekend meal. The balance of tender meatballs, flavorful sauce, and gooey cheese, all held together in a crisp sub bread, creates a delightful experience with each bite. This recipe is sure to become a regular in your meal rotation, bringing smiles and satisfaction to your dinner table.