1. Introduction
There's nothing quite like the comforting taste of a well-cooked hamburger steak, especially when it's smothered in a rich onion gravy. This recipe takes you back to the roots of homemade comfort food, combining simple ingredients with a touch of culinary magic. It's a dish that promises to warm your heart and fill your stomach, perfect for family dinners, cozy nights in, or just when you need a taste of home.
2. Ingredients
1 lb. ground beef
1 cup sliced mushrooms
1 egg
1/3 cup bread crumbs
1/2 tsp. black pepper
1 tsp. salt
1/2 tsp. onion powder
1 clove garlic, minced
1 tsp. Worcestershire sauce
1 tbsp. oil
1 1/2 cup thinly sliced onion
2 tbsp. all-purpose flour
1 cup beef broth
1/2 tsp. seasoned salt
3. Directions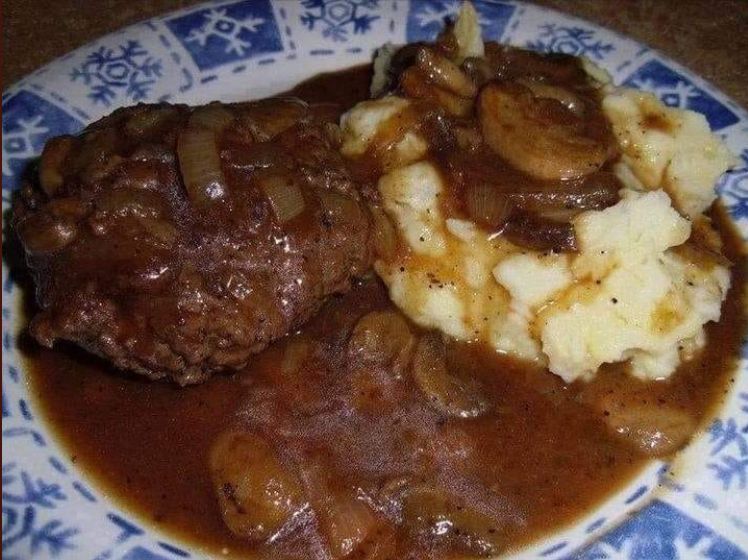 Mix ground beef, egg, bread crumbs, pepper, salt, onion powder, garlic, and Worcestershire sauce in a large bowl.
Form this mixture into thick patties.
4. How to Prepare
Heat the oil in a large skillet over medium heat.
Fry the patties and onions until the patties are nicely browned.
Remove the patties and keep them warm.
Add flour to the skillet with onions, mushrooms, and drippings, mixing well.
Gradually stir in beef broth, seasoning with seasoned salt.
Let it simmer for about 5 minutes until the gravy thickens.
Return the patties to the skillet, cover, and simmer for another 15 minutes.
5. Preparation Time
Total Time: Approx. 40 minutes
Prep Time: 15 minutes
Cooking Time: 25 minutes
6. Servings
7. FAQs
Can I use turkey instead of beef? Yes, turkey can be a healthier alternative.
What can I serve with this dish? Mashed potatoes or steamed vegetables pair well.
Can the leftovers be frozen? Yes, freeze in an airtight container.
Is it suitable for a gluten-free diet? Use gluten-free bread crumbs and flour.
Can I make the gravy thicker? Yes, simply simmer for a longer time or add a bit more flour.
8. Conclusion
This Hamburger Steaks with Onion Gravy recipe is more than just a meal; it's a journey to the heart of traditional cooking. It's about enjoying the process of creating something that's both simple and deeply satisfying. Each bite is a reminder of the timeless appeal of classic comfort food. So, gather your ingredients, and let's bring this savory, heartwarming dish to your table.