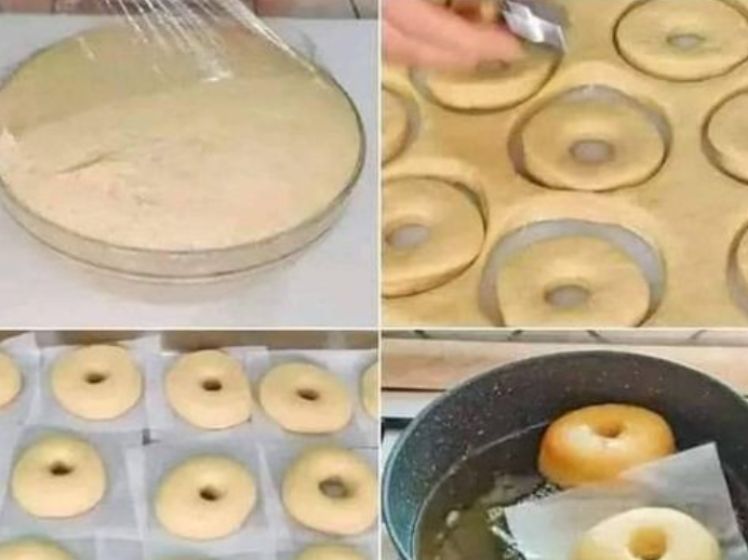 1. Introduction
Who can resist the allure of a freshly made doughnut? That golden exterior giving way to a soft, fluffy interior, all wrapped up in a sweet, delectable flavor. Making doughnuts at home might seem daunting, but it's surprisingly simple and incredibly rewarding. With this recipe, you'll learn how to create perfect doughnuts that are sure to impress your family and friends. Whether it's a special occasion or a weekend treat, these homemade doughnuts will become your new go-to delight.
2. Ingredients
3 cups of all-purpose flour
4 tablespoons of sugar
1 tablespoon of salt
1 tablespoon of instant yeast
1 egg
2 tablespoons of butter
1 cup of warm liquid milk
Vegetable oil for frying
3. & 4. Directions & How to Prepare
In a large mixing bowl, combine the flour, sugar, salt, and yeast. Whisk these dry ingredients together.
Crack the egg into the bowl and start mixing with a wooden spoon.
Gradually pour in the warm milk, stirring continuously to form a consistent dough. If your dough feels too soft, sprinkle in a little more flour until the texture is just right.
Now, add the butter and mix it thoroughly into the dough.
Transfer your dough onto a floured surface. Knead it until it becomes elastic and stretchy.
Place the dough into a greased bowl. Cover it and let it rise in a warm place until it doubles in size.
After it has risen, gently knock the dough to release air bubbles. Roll it out on a floured surface.
Use a doughnut cutter (or any clean, round object) to shape your doughnuts. Cover them and let them rise for another 30 minutes.
Heat vegetable oil in a deep frying pan. Fry the doughnuts until they turn a delicious golden brown.
5. Preparation Time
Prep Time: 20 minutes
Rising Time: 1.5 hours
Cooking Time: 20 minutes
Total Time: Approximately 2 hours 10 minutes
6. Servings
This recipe yields approximately 12-15 doughnuts.
7. FAQs
Q: Can I use active dry yeast instead of instant yeast? A: Yes, but remember to activate it in warm water first.
Q: What if I don't have a doughnut cutter? A: You can use a large cup and a small bottle cap to create the classic doughnut shape.
Q: How do I know when the oil is ready for frying? A: Drop a small piece of dough into the oil. If it sizzles and rises to the top, the oil is ready.
Q: Can I bake these doughnuts instead of frying? A: Absolutely! Bake them at 375°F (190°C) for about 10-12 minutes or until golden.
Q: How long can I store these doughnuts? A: They're best enjoyed fresh but can be stored in an airtight container for up to 2 days.
8. Conclusion
There you have it, a simple yet delightful doughnut recipe that brings the bakery right into your kitchen. These homemade doughnuts are not just treats; they're a labor of love that brings joy and sweetness into any moment. Imagine serving these warm, golden delights at a family gathering or as a special treat on a cozy weekend morning. The smiles and satisfied tastes of your loved ones will make every moment spent in the kitchen utterly worthwhile. So, tie on your apron and get ready to create some magic with flour and sugar!