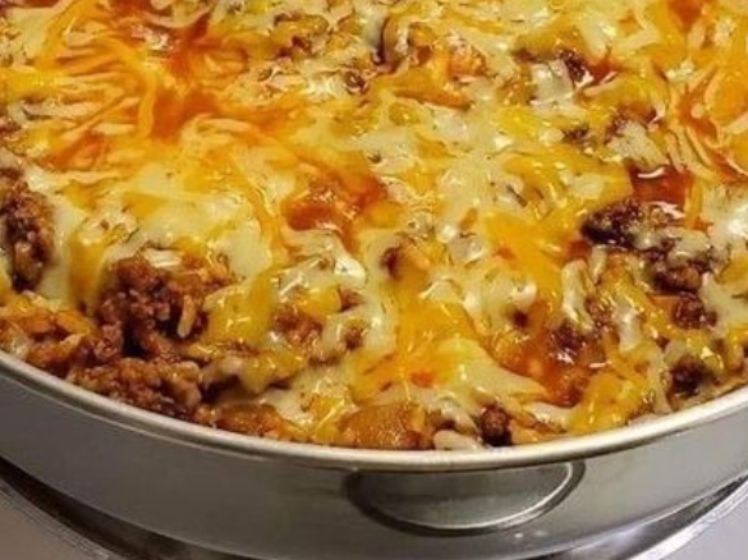 1. Introduction
Are you looking for a dish that's both delicious and easy to make? Look no further than our One Pot Mexican Rice Casserole! This mouthwatering recipe combines the rich flavors of ground beef, long grain rice, and a medley of Mexican-inspired spices to create a meal that's bursting with flavor. Perfect for busy weeknights, this casserole requires minimal prep and cooks all in one pot, making cleanup a breeze. Whether you're feeding a hungry family or looking for a tasty meal prep option, this casserole is sure to become a go-to in your recipe collection. Let's dive into the world of easy, flavorful cooking!
2. Ingredients
1 Pound Ground Beef
1 Small Onion, Diced
Salt & Pepper, To Taste
2 Tablespoons Taco Seasoning
1 Teaspoon Garlic Powder
1 Cup Long Grain White Rice
1 1/2 Cups Beef Broth
1 15 Ounce Can Corn, Drained
8 Ounces Tomato Sauce
1/2 Cup Salsa
1 Cup Shredded Cheese
3. Directions
Begin by cooking the ground beef and onion together in a large skillet over medium-high heat. Season with salt and pepper. Continue cooking until the beef is no longer pink. If necessary, drain any excess grease from the pan.
4. How to Prepare
Once the beef is cooked, return the pan to the stove. Sprinkle the beef with garlic powder and taco seasoning, stirring well to coat. Next, add the rice, beef broth, corn, tomato sauce, and salsa to the skillet. Stir to combine.
5. Preparation Time
Bring the skillet to a boil, then cover and reduce the heat. Allow the mixture to simmer for 18-20 minutes, or until the rice is tender. Keep an eye on the skillet to ensure the rice does not stick or burn.
6. Servings
This recipe serves 4-6 people, making it perfect for family dinners or meal prep for the week.
7. FAQs
Q: Can I use a different type of rice? A: Yes, but cooking times may vary. Check the rice packaging for specific instructions.
Q: Is it possible to make this casserole vegetarian? A: Absolutely! Replace the ground beef with a plant-based alternative or more vegetables.
Q: Can I freeze this casserole? A: Yes, it freezes well. Just ensure it's cooled completely before freezing.
Q: What can I serve with this casserole? A: It pairs well with a green salad, guacamole, or tortilla chips.
Q: Can I use fresh tomatoes instead of tomato sauce? A: Yes, but the texture and flavor will be slightly different.
8. Conclusion
Our One Pot Mexican Rice Casserole is more than just a meal; it's a celebration of flavors and simplicity. This recipe is a testament to the fact that delicious, hearty meals don't have to be complicated or time-consuming. It's perfect for those nights when you want something satisfying without the hassle. Plus, the versatility of this dish means you can tweak it to your liking, making it a surefire hit for all palates.