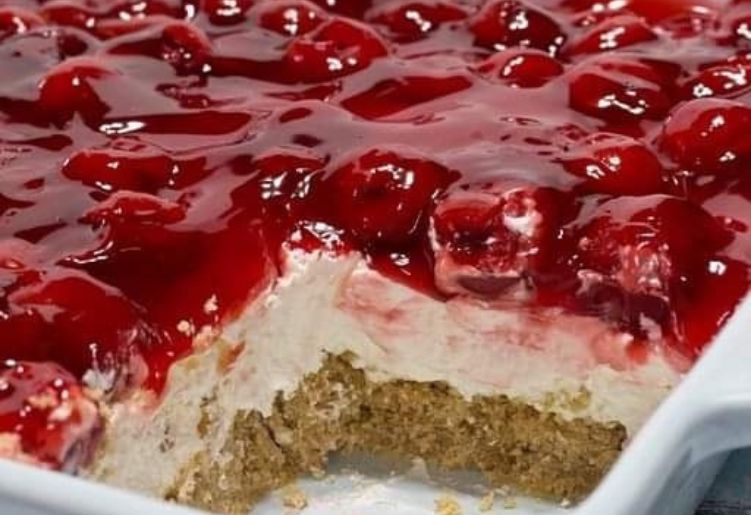 Introduction
Get ready to indulge in a dessert that's as delightful to the eyes as it is to the taste buds! Our Heavenly Cherry Delight is a modern twist on a classic favorite, promising a fusion of textures and flavors that will leave you craving more. Perfect for family gatherings, special occasions, or just a sweet treat after dinner, this recipe is as easy to make as it is delicious. Its layers of crunchy graham cracker crust, creamy cheese filling, and luscious cherry topping make it a hit among all age groups. Let's embark on this culinary journey to create a dessert that's sure to become a new favorite!
Ingredients
CRUST
7 tablespoons unsalted butter
1 1/2 cups graham cracker crumbs (about 9 whole crackers)
3 tablespoons granulated sugar
FILLING
8 ounces cream cheese, softened
1 cup powdered sugar
1 teaspoon pure vanilla extract
1 container cool whip, 8 ounces
1 can cherry pie filling, 21 ounces
Directions
CRUST
Melt the butter in a medium bowl in the microwave for 30 seconds.
Combine melted butter with graham cracker crumbs and sugar; mix well.
Firmly press the mixture into the bottom of a sprayed 8 x 8 baking dish. Set aside.
FILLING
In a large bowl, mix cream cheese with a mixer until smooth.
Add powdered sugar and vanilla; mix well.
Gently fold in the cool whip, ensuring not to overmix.
Spread the cream cheese mixture over the crust evenly.
Spoon and spread cherry pie filling on top of the filling layer.
How to Prepare
Begin with the crust by melting butter and mixing it with crumbs and sugar.
Press the crust mixture into a baking dish.
For the filling, start by smoothing the cream cheese, then adding sugar and vanilla.
Fold in cool whip carefully.
Layer the cream cheese mixture and cherry pie filling over the crust.
Refrigerate for at least 2 hours, ideally overnight.
Preparation Time
Total Time: Approximately 2 hours 15 minutes

Prep Time: 15 minutes
Refrigeration Time: 2 hours minimum, overnight for best results
Servings
This recipe yields approximately 9 servings.
FAQs
Can I use a different fruit filling? Yes, you can substitute cherry pie filling with other fruit fillings like blueberry or strawberry.
Can I make this dessert a day ahead? Absolutely! It's recommended to refrigerate it overnight for the flavors to blend beautifully.
Is there a substitute for Cool Whip? You can use whipped cream as a substitute, but it might alter the texture slightly.
Can I freeze the Cherry Delight? Yes, you can freeze it, but the texture of the cream cheese layer may change slightly upon thawing.
Can I use low-fat cream cheese? Yes, low-fat cream cheese works well and makes the dessert slightly lighter.
Conclusion
Our Heavenly Cherry Delight is more than just a dessert; it's a celebration of flavors and textures that come together to create a truly memorable experience. Whether you're a seasoned baker or a novice in the kitchen, this recipe is designed for everyone to enjoy. Its ease of preparation, coupled with its delectable layers, makes it the perfect dessert for any occasion. So go ahead, give this recipe a try and watch as it becomes a cherished addition to your dessert repertoire!