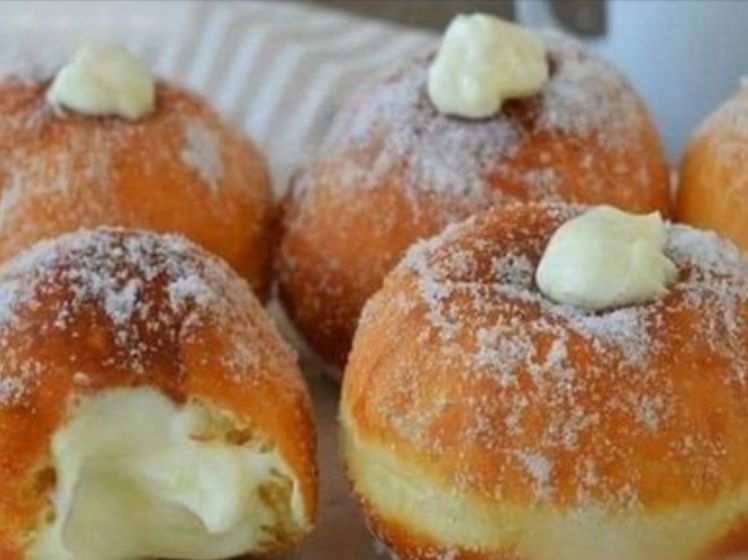 Introduction
Donuts, a beloved treat enjoyed by people of all ages, are about to get a sumptuous upgrade in your kitchen! This recipe introduces a delightful twist to the classic donut – filling them with a rich and creamy Italian diplomat cream. The perfect balance of fluffy and creamy, these donuts are not just a treat for the taste buds but also a delightful journey into the world of baking. Whether you're a seasoned baker or a novice in the kitchen, this recipe is designed to guide you through every step, ensuring that each donut turns out perfectly irresistible. So, let's embark on this culinary adventure and bring the magic of gourmet donuts to your home!
Ingredients
For the donuts:
1 medium-sized egg
50g butter
200g milk
80g sugar
500g flour
8g dry baker's yeast (or 12g fresh yeast)
1 pinch of salt
For Italian diplomat cream:
300g pastry cream
200g liquid cream
2 tablespoons icing sugar
For the cover:
Directions
By Pastry Robot:
Mix milk, baker's yeast, and a teaspoon of sugar. Let stand for 10 minutes.
In the stand mixer bowl, combine flour, beaten egg, melted butter, sugar, and the milk-yeast mixture.
Beat the dough for 20 minutes until soft and elastic.
By Hand:
Mix butter, egg, sugar, and salt. Add milk with baking powder and flour.
Knead on a floured surface until smooth and elastic.
Let the dough rise in a covered bowl until doubled in volume.
How to Prepare
Roll out the dough into a half-centimeter-thick rectangle.
Cut out 6cm discs using a cookie cutter.
Place on a baking sheet, each with a square of baking paper underneath.
Cover and let rise for an additional hour.
Prepare the Italian diplomat cream by mixing pastry cream with whipped liquid cream and icing sugar.
Heat oil in a saucepan and fry the donuts for 5-6 minutes each, two at a time.
Fill each donut with Italian diplomat cream using a piping bag.
Preparation Time
Total Time: Approximately 3 hours (includes rising and cooking time)
Active Time: About 1 hour
Servings
FAQs
Can I use any other type of cream for filling? Yes, you can use any cream you prefer, but Italian diplomat cream provides a unique flavor and texture.
How long can I store these donuts? Ideally, enjoy them fresh. They can be stored in an airtight container for up to 2 days.
Can I bake these donuts instead of frying? Yes, you can bake them at 350°F (175°C) for about 10-15 minutes, but frying gives them a traditional texture.
What is the best way to fill the donuts? Using a piping bag is the most efficient and clean method to fill the donuts.
Can I prepare the dough in advance? Yes, the dough can be prepared and refrigerated overnight for the first rise.
Conclusion
Creating these cream-filled donuts at home is not just about baking; it's about crafting a piece of culinary art. With each bite, you experience the harmonious blend of fluffy dough and the luxurious Italian diplomat cream, making it more than just a snack – it's an experience. These donuts are perfect for special occasions, a treat for your loved ones, or even as a delightful project to enjoy with your family. As you savor the fruits of your labor, remember that each donut you've created is a testament to your love for baking and a celebration of your skills in the kitchen. Happy baking!