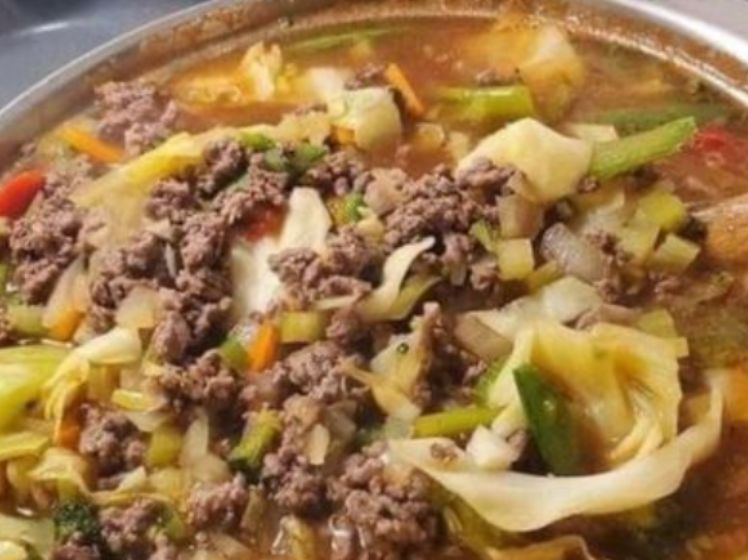 Introduction
Cabbage soup, a timeless classic, has been warming hearts and homes for generations. This recipe elevates the traditional dish with a hearty twist, blending the simplicity of fresh vegetables with the richness of ground beef. Its ease of preparation makes it a go-to meal for busy days, while its comforting flavors are perfect for savoring during those soothing rainy afternoons. Let's embark on a culinary journey that combines health with taste, proving that simplicity can indeed be delicious.
Ingredients
1 large cabbage, chopped
2 small onions, diced
2 cans of stewed tomatoes
1 pouch Lipton Onion Soup Mix (any flavor)
1 large celery stalk, chopped finely
1-2 pounds ground beef
Directions
Start by filling a large saucepan halfway with water. Bring it to a boil.
Gently add the chopped cabbage, onions, and celery to the boiling water.
Lower the heat to a simmer, allowing the vegetables to cook gently.
How to Prepare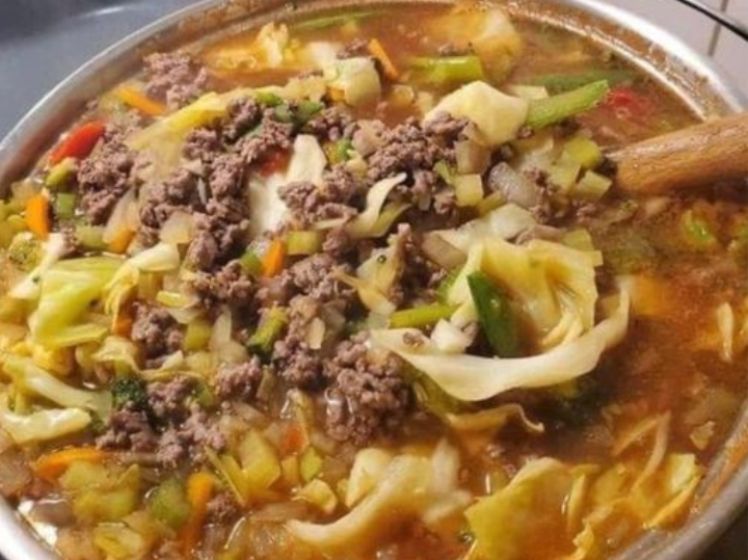 In a separate pan, cook the ground beef until it's browned. Make sure to drain any excess fat.
Stir in your favorite spices to the beef for an added flavor kick.
Mix in the Lipton Onion Soup Mix to create a rich, savory base.
Add the cooked beef to the simmering vegetables.
Let the soup simmer for a few more minutes, allowing the flavors to meld together. Taste and adjust the seasoning as needed.
Preparation Time
Prep time: 15 minutes
Cook time: 30 minutes
Total time: 45 minutes
Servings
This recipe yields approximately 6 hearty servings.
FAQs
Q: Can I make this soup vegetarian? A: Absolutely! Simply omit the ground beef and perhaps add more vegetables or a plant-based protein.
Q: How long can I store this soup? A: The soup can be refrigerated for up to 3 days or frozen for up to 2 months.
Q: Can I use a different type of meat? A: Yes, ground turkey or chicken can be a great substitute for beef.
Q: Is this soup gluten-free? A: To ensure it's gluten-free, use a gluten-free onion soup mix.
Q: Can I add other vegetables? A: Definitely! Feel free to add carrots, bell peppers, or any of your favorite veggies.
Conclusion
This Hearty Cabbage Soup recipe stands as a testament to the beauty of simple, nourishing ingredients coming together to create a dish that's both comforting and satisfying. Whether you're seeking solace on a rainy day or simply looking for a wholesome meal, this soup is sure to hit the spot. Its versatility, ease of preparation, and delightful flavors make it a favorite for any day of the week. So, gather your ingredients and let your kitchen be filled with the aroma of home-cooked goodness.