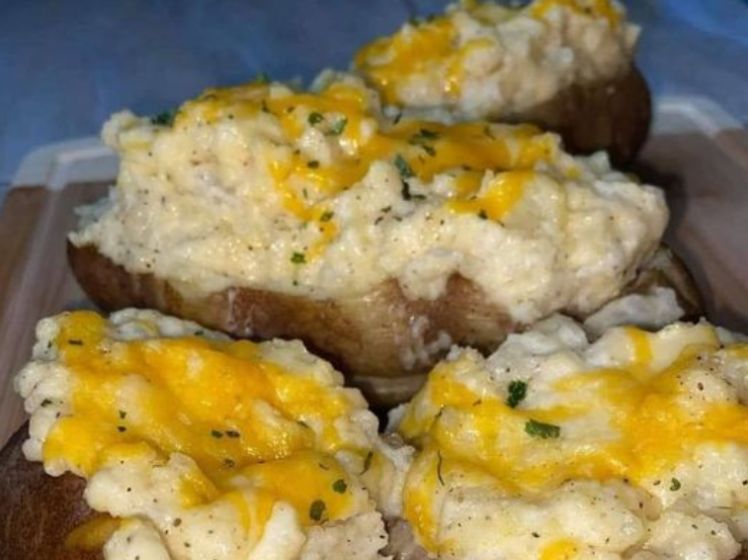 Introduction
Imagine the comfort of a Shepard's Pie and the heartiness of a baked potato coming together in one delicious dish. That's exactly what our Shepard's Pie Baked Potato recipe offers! This dish is a creative twist on the classic Shepard's Pie, merging it with the beloved baked potato to create a meal that's not only satisfying but also packed with flavors. Perfect for cozy family dinners or as a show-stopping dish at your next gathering, this recipe promises a delightful culinary experience. It's an easy-to-make, versatile meal that will have everyone asking for seconds!
Ingredients
Large potatoes
Ground chuck
1 can of cream of mushroom
1 can of corn
Heavy whipping cream
Salt
Pepper
'Slap Ya Mama' seasoning
Shredded cheese
Butter
Season blend
Garlic Parmesan dry seasoning
Directions
Preheat your oven.
Wash and prepare the potatoes.
Cook the ground chuck.
Mix in the cream of mushroom and corn.
Season the mixture.
Hollow out the baked potatoes.
Fill the potatoes with the meat mixture.
Top with cheese and bake.
How to Prepare
Start by preheating your oven to 375°F (190°C). Thoroughly wash and pierce the potatoes, then bake until tender. Meanwhile, cook the ground chuck in a pan until browned. Stir in the cream of mushroom and corn, adding heavy whipping cream, salt, pepper, 'Slap Ya Mama' seasoning, and season blend for flavor. Once the potatoes are baked, slice them open and hollow out a portion, keeping the skins intact. Fill each potato with the meat mixture, top with shredded cheese and a sprinkle of garlic Parmesan seasoning, and bake again until the cheese is melted and golden.
Preparation Time
Preparing the ingredients: 15 minutes
Baking the potatoes: 45 minutes
Preparing the filling: 20 minutes
Final bake with filling: 15 minutes
Total time: Approximately 1 hour and 35 minutes
Servings
This recipe serves 4-6 people, depending on the size of the potatoes and portion preferences.
FAQs
Q: Can I use a different type of meat? A: Absolutely! Ground turkey or chicken can be great substitutes.
Q: Is there a vegetarian option? A: Yes, you can replace the meat with a mixture of lentils and mushrooms.
Q: Can I make this ahead of time? A: Definitely! Prepare everything up to the final bake and refrigerate. Bake when ready to serve.
Q: How long can I store leftovers? A: Store in the refrigerator for up to 3 days.
Q: Can I freeze this dish? A: Yes, it freezes well. Thaw in the refrigerator before reheating.
Conclusion
Our Shepard's Pie Baked Potato recipe is more than just a meal; it's a journey of flavors and textures that blend together to create a comforting, satisfying experience. With its simple steps and versatile ingredients, it's a perfect dish for both novice and experienced cooks. Whether you're looking to impress your guests or just want to enjoy a hearty meal with your family, this dish is sure to be a hit. So, grab your apron, and let's start cooking this delicious twist on a classic!